Something for Everyone with Lia Sophia Jewelry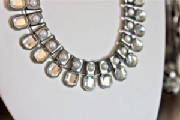 Glaminator Necklace
2013 Vendors:
To go to the vendor's personal website, click on their name. If they have given us a website, it will take you there!
Continue to support these local businesses as you do your Christmas shopping this year!
Blackbyrd Primitives
Scentsy
The Sheet People
Watkins
Woven Rugs by Evelyn
L'Bri Pure N Natural
It Works
Angel's Orchard
New Creation Art
Avon
Tazerkitty, LLC
Tobison Jewelry
Origami Owl
Bird houses by Sue
Crazy 4 Embroidery
Velata
Mixins - N - Fixins
Body By Vi
Usborne Books
Dippidy Doodads
Wineshop At Home
Arbonne
Weekend Woodwork
Mary Kay
Tupperware
Hand made baby items, quilts, blankets & more;
Stuffed Animals
Many more unique craft items also!!
Rio 4-H will sell their annual Christmas wreaths at our event. Support this great youth group! Contact any 4-H member to order your wreath!
Can't join us this year?
Be sure to click on the link below to be put on the mailing list for next year!
Info@OldFashionedHolidayBazaar
Thirty One Gifts