Leather Colors:
Split Leather: Black, Fawn, Chocolate and Rust
Smooth Grain Leather:
Black, White, Cream and Chocolate
Ultra Suede:
Black or Sand
Metallic Trim colors:
Silver, Red, Royal Blue, Purple, and Gold
#287 Adult Pleather chaps ~ Black Only

#287 Adult "Pleather" Show Chap. Equitation show chap featuring black smooth fringe on"Pleather" body. Black only. One concho back. "Pleather" is a manmade material that has a soft smooth leather look. Start at $149
Sizes XSmall through XLarge and Custom Sizing Too!
See Size Chart C
#231 Ultra Suede Show Chap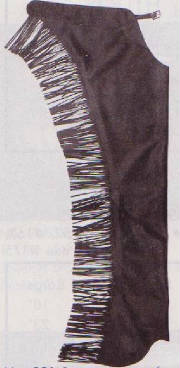 Black or Sand colors
#231 Ultra Suede has the look of fine suede leather in a washable, durable fabric. One concho back. Sand or Black in Color $295
Size Chart C
#229 Tooled Leather Top Show Chap
Split, smooth leather or Ultra Suede material
#229 Hand Stamped basket weave leather yoke show chaps. Comes with 1 1/2" silver plated hand engraved back buckle, loop & tip for back closure. Available in Split leather, smooth leather or ultrasuede material.
Custom Sizes available in this chap. Extra fee for custom sizing.
229 Ultra Suede ~ Starts at $350
229 Smooth Leather ~ Starts at $350
229 Split Leather ~ Starts at $299
Size Chart C
#240 Trim Line Show Chap

Modified heel drop
#240 Trim Line Show Chap. Features a modified heel drop, comes with choice of 1 (240-1) or 2 conchos (240-2) on back and 4" fringe. Available in split or smooth leather.
#240-1 Smooth $275
#240-1 Split Leather $210
#241-2 Smooth $275
#241-2 Split Leather $210
Budget Minded?
Check out the below Chaps. They are good quality economical Show Chaps for Open shows and more.
#429 Adult Show Chap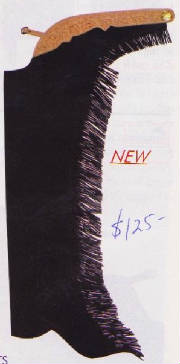 #429 Adult Western Show Chap. Split leather equitation show chap with 4" fringe, heel drop and tooled floral yokes. Black only.
Sizes: Small, medium, large, XLarge $125
See Star Rider Size chart
Star Rider Size Chart for Adults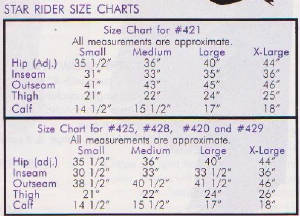 Below are some of the options you can choose to make your new chaps just right for you!!
Optional Back Closures for our Chaps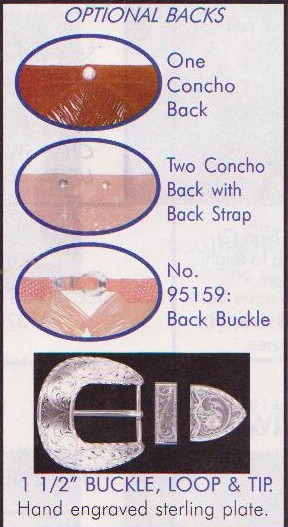 Optional Front Closure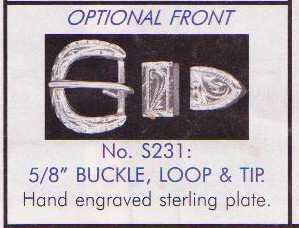 5/8" Sterling Plate Buckle Loop & Tip $20 extra charge
Additional Info on Custom Size Orders:
We will make the chaps you want to your specified measurements. You give us the measurements based on our chart we will email you to assist you in taking accurate measurements.
The cost of custom made vs. 'off the rack' sizes starts at $50 extra over the cost of 'off the rack' and goes up depending on size needed. There is an extra charge for thigh measurement of 28" and more. Ask for details.
ALL CUSTOM CHAPS ARE FINAL SALES SO MEASURE CAREFULLY! Have another person measure you to be accurate. Wear the clothes you will wear under the chaps and the boots you will wear while being measured.